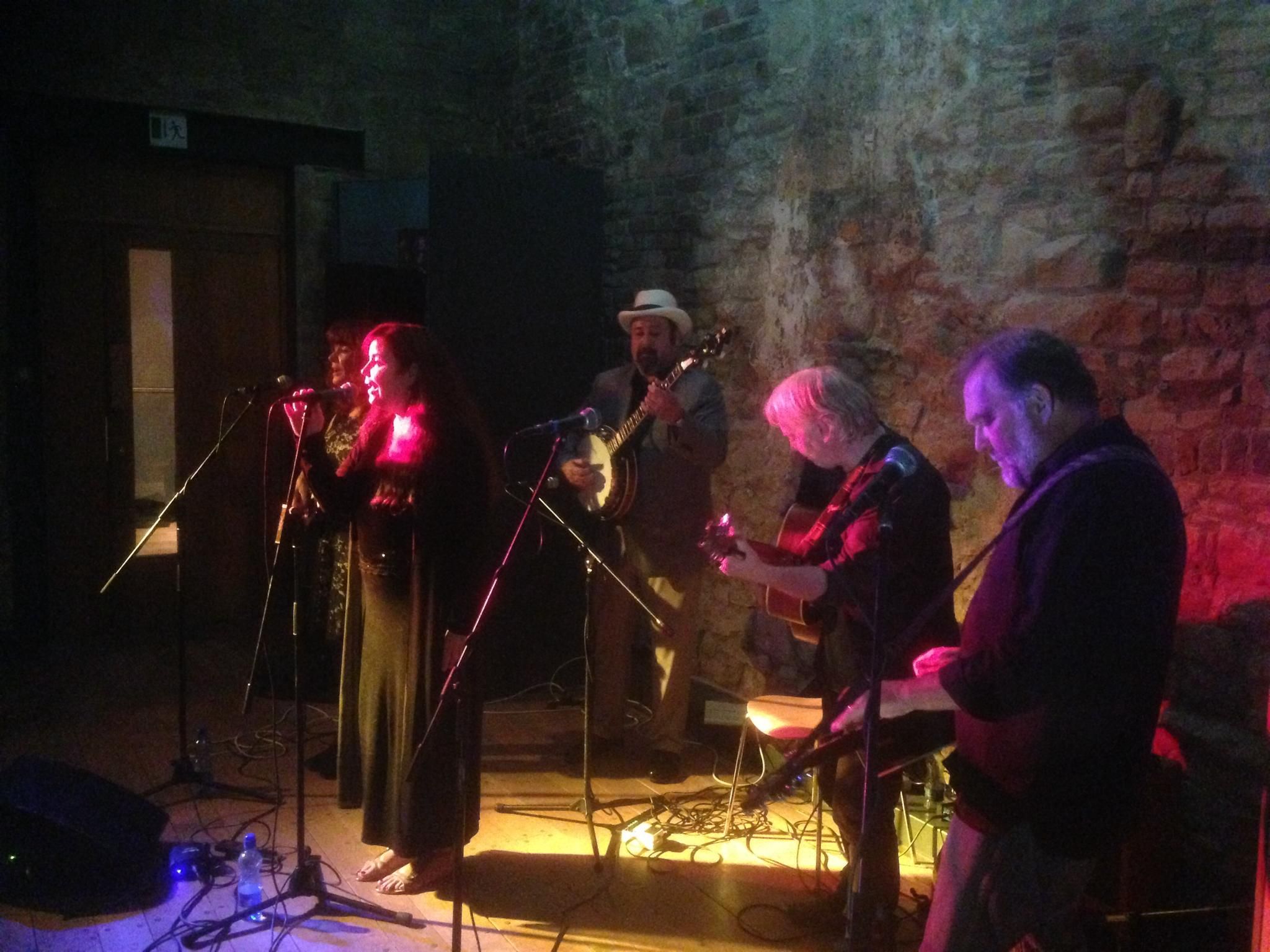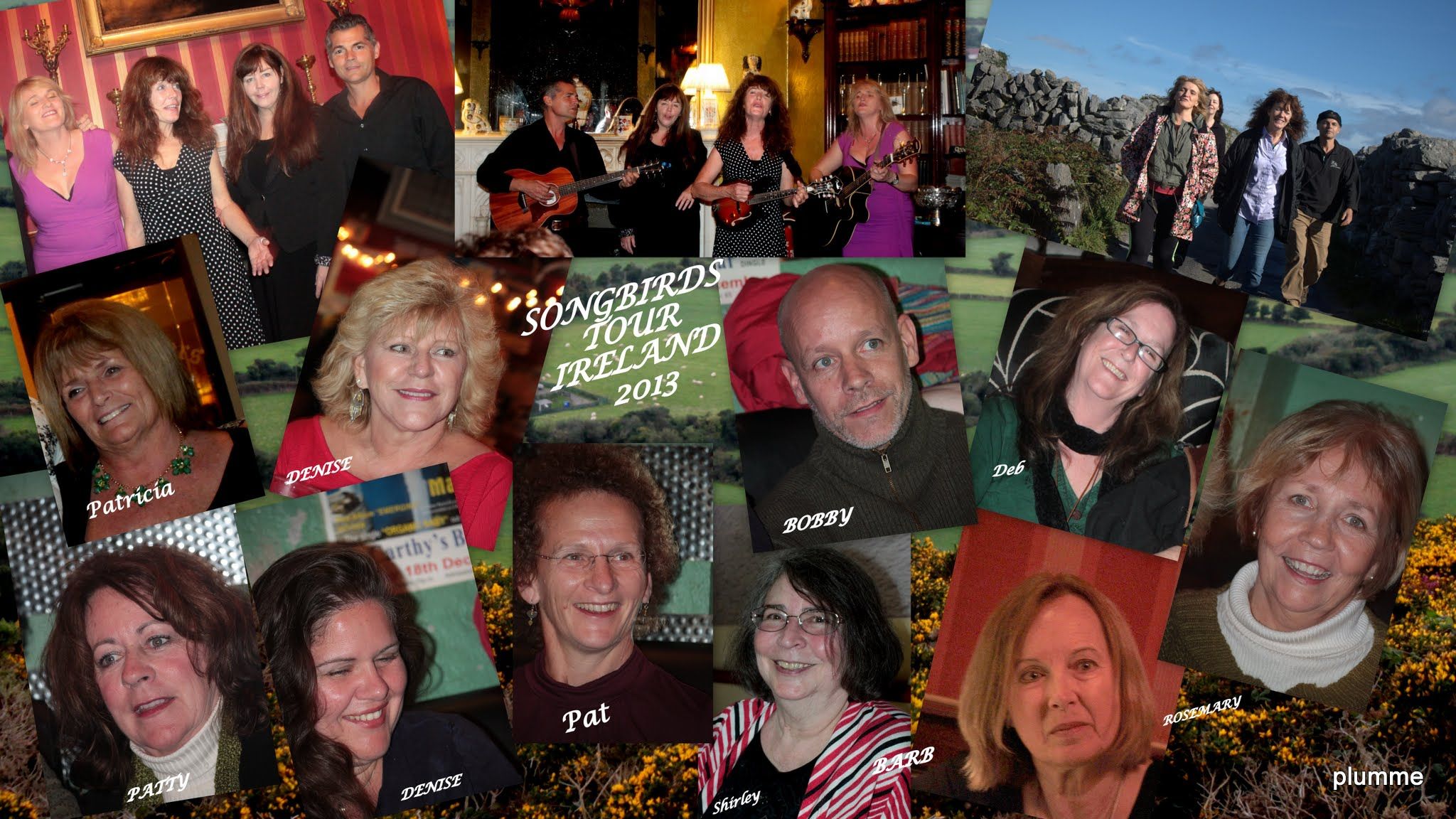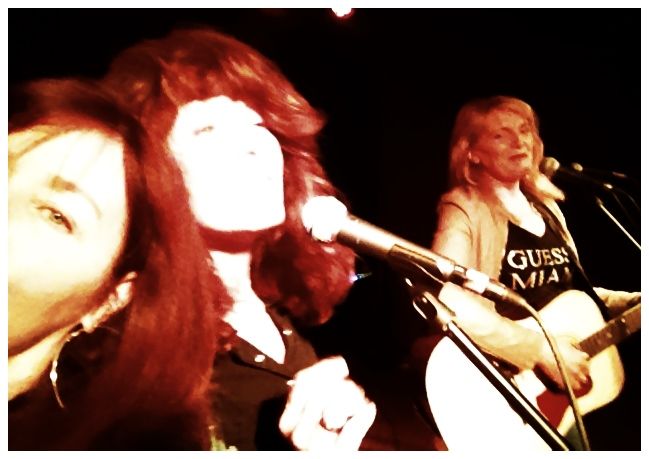 A 10-A musical journey through the West of Ireland that will touch your heart and soul….
THE SONGBIRDS Irish Tour 2017
Featuring The Burns Sisters and Kate Purcell
Oct1-Oct 11th!! We will pick you up at Shannon airport the morning of Oct 2nd. Book your flight out on Oct 1st!"hop on the bus, Gus!"
THE Songbirds –The Burns Sisters- Annie and Marie Burns from Ithaca, New York, and Kate Purcell, from County Clare, Ireland – join forces again for the fourth straight year to conduct a musical tour of the West of Ireland. Kate Purcell is a well known, seasoned vocalist in Ireland. She recorded Marie's song, Savannah, which is how The Burns sisters and Kate met.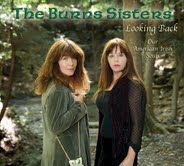 We will also be accompanied by the fabulous Stephen Flaherty from Ennis Ireland. He toured with the Burns Sisters in the USA. They lured him to Ithaca, NY then off to the Woody Guthrie Fest in 2015. A great guitarist and a wonderful soul. 
By day, the singing trio will bus with you to ancient ruins, castles, picturesque fishing villages, the Aran Islands, horse races, and so much more. Kate, one of Ireland's great singers, and native of County Clare knows the hidden gems along the way that makes this tour unique. By night, we settle into our rooms, then we join together for dinner where music, song, local talent, and laughter are also on the menu. We encourage our fellow travelers to bring an instrument and a favorite poem or song to share. Annie and Marie have taught many harmony workshops and will be thrilled to share their harmony secrets with anyone who would like to learn. Our tours are all about connection, both through music and immersion into the history of The Emerald Isle.
Our tours are created for people who are not fond of typical tours: the big buses, the name tags, constant hurrying & the large groups that you may feel disconnected from. In contrast, we create the best musical sessions, visit the best pubs and restaurants, and the find the most beautiful back roads, for the longest lasting memories. We try to stay in a hotel for 2 nights each so we can connect with a town and not be rushing. We also like to check out of our hotel at a reasonable hour. Leave time for coffee and breakfast, perhaps a little shopping and leave at check out time. UNLESS the group decides they want to leave early. Music is our focus and in Ireland? Our sessions can go late into the night. It is all up to the group.
Our group of 20 or so guests will meet at Shannon Airport on the morning of October 2, 2017. Travel arrangements from the US should be made individually.  Take the redye out of NYC /JFK or Newark  on Oct 1st and we will pick you up the morning of the 2nd of OCT. We are happy to give you guidance. Priceline and Kayak are great ways to save $ on your flights. The tour is 10 days total. The first day is a travel day to fly into Shannon airport. There is an overnight from Newark, NJ or JFK directly to Shannon. We sleep on the overnight/redeye and meet everyone at Shannon airport bright and early. We pick you up. Go into Ennis or nearby hotel to rest up. Then dinner and music that night.
We generally stay two or three nights in one town at the finest hotels to make travel less hectic and bring you back to Shannon Airport on October 11th for your return flight. 
Our luxury coaches are just roomy enough to be comfortable but small enough to fit on the narrowest back roads. Our tours focus on the traditional arts and culture of Ireland, especially, MUSIC! Our group size and the way that we plan our tours allows us maximum flexibility. Want to take a walk, shop at a certain store, or take a nap? With us, that is all possible. We go at Ireland's pace - just fast enough to pack in a lot of incredible experiences, but slow enough so that those experiences are meaningful.
The cost for the 2017 tour is $2,500 US per person based on double occupancy. We will do our best to match up roommates, and provide for handicap accessibility, should you require it. If you have health problems of any kind, we make arrangements to make your trip as comfortable as possible. Single rooms are an additional $500 per person for all nine nights. (The increase in the single room fee is necessary to fully cover the costs of accommodating single travelers. We regret any inconvenience this may cause.)
The fee covers all lodging including a full breakfast each day, five evening group meals, and the cost for our featured Irish musicians, poets, writers, artists & day passes to our featured destinations are also included. You will need personal money for drinks, the few meals you need to cover, some money in case of an emergency. Last but not least, money for shopping!!
Guests are to pay for their own flights to and from Shannon International Airport, as well as four dinners on your own, optional activities, all drinks, tips, and personal expenses. A $1,000 deposit is required to guarantee availability after confirmation of your reservation. The balance, payable to The Burns Sisters is due in two installments, six months and three months prior to August 1, 2017.
Trip requirements include a current passport. It is also recommended that you inform your credit card companies of your destination and for how long you will be out of the country. 
To get some great deals to Shannon Airport, you might try travel services like Priceline, Kayak, and Hotwire! And, you are always welcome to contact one of your hosts, Annie Burns, by e-mail for some personal help. She is always fishing for the best travel deals, especially from Newark International to Shannon.
So, please join us: Annie, Marie, and Kate! "The Songbirds tour of Ireland"
It's important to contact as soon as you can! We are getting people signing up already!!  August 20, 2017 to reserve your place on our Irish tour. Please contact us at Annieburns@gmail.com Theburnssisters.com phone 607 2802513 for any questions.
You don't have any requests.